*Traveling Hitting Event* 2021
**Only Accepting, ..the first  5  players per city…

YES ..I'm excited to announce the news I will be visiting these cities (See List Below).
This is the most sophisticated-innovative-progressive approach to hitting you'll ever find.
"Timed Hitting Perception" is the primary concept that is being taught. 
Teaching hitters how to master their Hitting Timing and Hitting Spatial Alertness…
are the main ingredients that help hitters… "hit better in the game"! 
Every hitter will be taught what THEIR Hitting Model is and what THEIR Hitting Tempo is…
and be taught real VISUAL PATTERNS/TECHNIQUES that will improve how fast they can process the speed and the space
the ball will be occupying!
Hitters will learn the information from the video series "5.0 Best Hitting Drill Ever" … Also –
from the "World's Greatest Hitting Formula" that includes the powerful principles of the "Pitcher's Common Denominator".
Hitting Event Details:
* One day… *ONLY 5 Players per City!
♦ An online account giving you (lifetime) online access to our Training At Home for Baseball Course  ($95 value!)
♦ 1 hour and 45 minutes of Face to Face innovative, sensitive, hitting training that deals specifically with Hitting Timing and Hitting Spatial Alertness.
♦ Learn "Timing"  Principles as they apply to your hitting model ($600  value).
♦ Total Investment discounted package deal is only $150…per player

=====================================================================================
======PAST TOUR INFORMATION======
Language Of Hitting… Is On TOUR!
I am taking the most comprehensive hitting system on the road. I am touring across the USA teaching a more advanced approach to hitting which centers around understanding the deep layers to TIMING. This includes learning that "the cornerstone"  to all good timing, revolves around the pitcher's common denominator (not his release point). I explain to the hitter's (signing up) what this common denominator is, and how to TIME your vision, and how to TIME your adrenaline, and how to TIME your hitting model to the pitcher's common denominator.
These principles are directly taken from my big video series on timing called the .. World's Greatest Hitting Formula. Also, I will be teaching the players how to utilize correctly the Best Hitting Drill – EVER!
And how to create lift and launch without having think or try to "drive the ball" over the outfielder's head.

*I'm Planning the next city of our Teaching Tour…
Please  <Click Here> and help me decide the cities we will visit next…OR ..Revisit!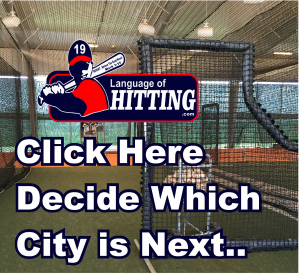 ***********************************************************************************************************
Travel Dates