*NEW Special Hitting Event Deal*
Have the Timing Teacher work with your hitters!
Learn about the intricacies involved with Hitting Timing and Spatial Alertness.  These are the 2 primary ingredients elite hitters are either born with or have figured out.  Our Special Hitting Event can accommodate Baseball hitters or Softball hitters.

The Hitting Event Includes:

Pre-Event Discussion (about 15 minutes before we enter the cage/cages).
1.5  Hours of Training and Learning about Timing and Spatial Alertness.
Post-Hitting Event Discussion /Questions (about 15 minutes).
Players receive our Training At Home for Baseball Video Course and T-shirt for FREE.
The coordinating Coach/Parents will need to take care of our batting cage arrangements.This Special Hitting Event is only $175 per player (minimum 4 players max 5 players)  The best environment to teach Hitting Timing and Spatial Alertness is with smaller groups.  (Additional time can be added, (our hitting sessions are more productive with the 2-day visit option).  Again, this Special Hitting Event Offer is for anywhere in the Continental USA.
Please give at least 2 weeks' notice of your request.
Fill out our request form below OR…
send me a text message at 412-287-6689
CLICK HERE and fill out a request form
**********************************************
Private Hitting Session with Coach Dave Kirilloff
Anywhere in the Continental USA.
*Two-Session Visit To Your Location.
*1.5 hours per session, followed by a 15-minute post-session discussion.
*Session Includes FREE T-Shirt!
*You take care of batting cage accommodations.
*Only $1190  (pay half now $595,  and then the other half $595, when I arrive)
Call To Schedule 412-287-6689
Email: Kirilloff19@aol.com
City: Private Hitting Session in Your Hometown!
Location:  TBA
Date: TBA
Time: TBA
**************************************
RETURN-Private-Visit-Session…with Coach Dave Kirilloff
This is an exclusive trip I make to come and train with your son.  The cost covers my travel expenses and training fees, to make dedicated travel plans specifically for your player.  The investment includes 1.5 hours of training time followed by 15 minutes review and discussion of the concepts we worked on together.  Only $247  *Note: You will need to take care of the batting cage accommodations.
Discount Code:
Click here to the make investment and save your spot
************************************************
**ZOOM -FACETIME Hitting Sessions**
Book time on either ZOOM or FaceTime and work directly with Coach Dave Kirilloff.
Sessions are 20 minutes in length.
The apps work best when both of us are connected to the internet vs. cell phone service.
You chose the Hitting Setting…batting tee, soft-toss from a parent, batting practice pitcher, and hitting off of the machine.
The objective is to teach your son how to incorporate hitting concepts that involve Hitting Timing and Hitting Spatial Alertness.
I will observe your son hitting and offer instruction and drills for your son to practice until our next hitting session together.
Pitching Instruction is also available with our ZOOM Training Sessions.
The goal of our pitching training sessions is to help your son with..
(1) Pitching Control
(2) Pitching Delivery Efficiency
(helping to avoid injuries)
(3) Throwing Velocity
(4) Learn to Throw Different Pitches.
(5) Discover his natural way to use the slope of the mound. *NOTE* All Zoom Training Sessions are scheduled through Coach Dave Kirilloff directly.
To set up our meeting time, call me, text me, email me…
Click Link to Register and Learn more about this program!
===================================================================
======PAST TOUR INFORMATION======
Language Of Hitting… Is On TOUR!
I am taking the most comprehensive hitting system on the road. I am touring across the USA teaching a more advanced approach to hitting which centers around understanding the deep layers of TIMING. This includes learning that "the cornerstone" of all good timing, revolves around the pitcher's common denominator (not his release point). I explain to the hitters (signing up) what this common denominator is, and how to TIME your vision, and how to TIME your adrenaline, and how to TIME your hitting model to the pitcher's common denominator.
These principles are directly taken from my big video series on timing called the .. World's Greatest Hitting Formula. Also, I will be teaching the players how to utilize correctly the Best Hitting Drill – EVER!
And how to create lift and launch without having to think or try to "drive the ball" over the outfielder's head.

*I'm Planning the next city of our Teaching Tour…
Please  <Click Here> and help me decide the cities we will visit next…OR ..Revisit!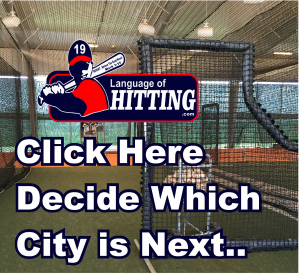 ***********************************************************************************************************
Travel Dates